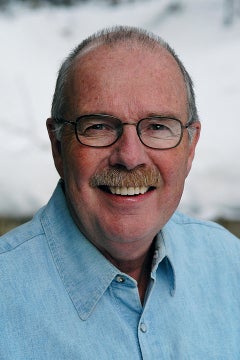 Rod Hanna
Rod Hanna began his journalism career as a reporter for the Davenport, IA, Times-Democrat in 1962, becoming a staff photographer in 1963. By 1965, he was winning awards and quickly recruited to work for the Topeka, KS, Capital-Journal under the tutelage of Director of Photography Rich Clarkson, who at the time was also shooting extensively for Sports Illustrated (SI). Though in the early stages of his career, Rod was already producing notable images during his time in Davenport; a favorite of his is a portrait of the visiting Dr. Martin Luther King.
Rod began photographing professional football games in the fall of 1965 for the Capitol-Journal, covering the games of the American Football League's Kansas City Chiefs. For SI, he covered the last game played by an AFL team, when the AFL Chiefs upset the NFL Vikings in Super Bowl IV. By 1967, he was promoted to chief photographer for the Capitol-Journal, and his photograph of Max McGee catching a touchdown pass during the first Super Bowl in January of 1967 appeared in SI with a story on the game. In 1969, he moved to Kansas City, MO, where he was a freelance advertising and sports photographer in the Kansas City area, including being the official photographer for the Kansas City Chiefs and the Kansas City Royals.
In 1975, he moved to Steamboat Springs, CO, and began a 25-year career as a marketing executive for the Steamboat Ski Resort. He announced his retirement as Senior Vice President of Marketing from the company in 2000. Even so, Rod continued to be active as a photographer in the NFL over the years, including ten years as official photographer for the Denver Broncos.
While living in the mountains of western Colorado, his interest also turned to nature and fine art photography as he began to show his work in art shows and galleries in his spare time. Since the mid 1990s, Rod has produced digital fine art prints in his own studio. His work has appeared in numerous art shows and exhibitions, including the Opening Exhibition at the Steamboat Art Museum, where he is a board member. He is currently represented by Wild Horse Gallery in downtown Steamboat Springs.
Over the years, Rod's photographs have appeared in nearly every major magazine in the United States, including Sports Illustrated, People, National Geographic, Time, Newsweek, and Travel & Leisure. His photographs of NFL games have appeared in numerous books published by the NFL, and in a DVD about the 1970 Kansas City Chiefs, "America's Game: the Super Bowl Champions."
Rod's first personal book, "Seasons of Light: Impressions of Steamboat Springs and the Yampa Valley," is a 192-page compilation of over 30 years of photography of Northwest Colorado, published in November 2007 with a foreword by Verne Lundquist and text by Tom Ross. He is also has a second book about Western Colorado, "Colorado's Seasons of Gold."
Rod continues to be active in the Steamboat Springs community, serving on four non-profit boards and having served as president of the Steamboat Springs Chamber Resort Association, Steamboat Arts Council, and local Rotary International Club. Rod is married to Vicky, a real estate broker in Steamboat Springs. Their daughter, Lily, graduated from the University of Colorado and is finishing a second degree in Interior Design while living in San Francisco. Rod's daughter, Ayn, holds a Master of Fine Arts Degree from Colorado State University and is a manager with the Oracle software company. Rod's son, Paul, followed him in a photography and management career and is now the Chief Photographer for Reuters News in Spain and Portugal, living in Madrid with his two daughters.