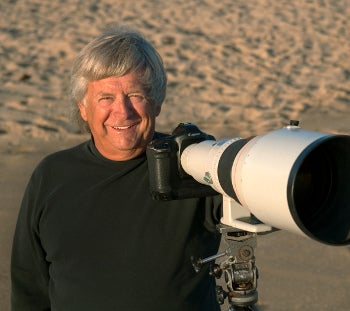 Peter Brouillet
A California native residing in Huntington Beach, Peter Brouillet has been shooting NFL, college football, Major League Baseball, volleyball and surfing for more than 35 years. After receiving a master's degree in photography from Long Beach State, Peter was hired by Surfing Magazine as the publication's darkroom technician and staff photographer. It wasn't long before his obvious talent vaulted him to Senior Photographer. He continues to photograph surfing when the conditions are right, but the majority of his time away from the beach is spent covering football and volleyball.
In 1983, Peter sent a portfolio of his surf photos to Athlon Sports Publications and, after a tryout, Peter earned a permanent photographer's position, where he has remained to this day. Along with Athlon, Peter also assumed the same position with NFL Properties in Los Angeles. There, he learned quickly under the tutelage of legendary photographer David Boss, who helped cement Peter's skill and dedication to documenting the sport. Peter can be seen on Saturdays and Sundays behind his camera on the sidelines of a college or pro game, and he still has the drive and enthusiasm to get the shot when it counts.
When he's not shooting on assignment, Peter works as a photo editor. In 1988, he held that position at Western Empire Publications in San Clemente, California, where he worked on Bodyboarding Magazine. In the early 1990s, he helped his friend, V.J. Lovero, as a photo editor for the Lovero Group in Orange, California. Duties included obtaining all the photos used by the Upper Deck sports card company, hiring photographers, scheduling shoots and editing film. His contributions played a significant role in helping Upper Deck establish itself as one of the country's premier trading card companies.
Since the early 1990s, he has served as a photo editor and valued photographer for Volleyball Magazine, DiG and Volleyball USA. Peter has photographed numerous Olympics, with an emphasis on indoor and beach volleyball competitions, and his work has earned him praise from many of the sport's greatest names, including three-time Olympic gold medalist Karch Kiraly.
Don Patterson, editor of Volleyball USA and DiG, says this of Peter: "There has never been a photographer more important to the sport of volleyball. Not only has he skillfully chronicled its history for more than two decades, he has established himself as a double threat—someone who can produce vivid, eye-catching action photos as well as compelling portraits. The sport is lucky to have someone with his combination of talent and dedication to quality."
Peter's work in so many different areas of his profession places him in the upper tier of America's sports photographers, but he hasn't forgotten his roots. When the conditions are good, he can still be found at the beach, often with his camera in hand, shooting the surfers as they ride the early morning swells."