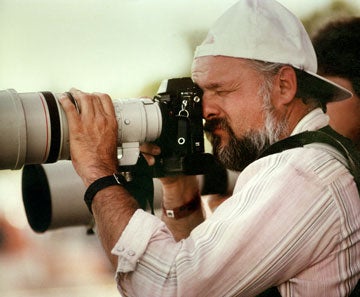 Manny Rubio
Manny Rubio is a New Yorker through-and-through. His accent, personality, confidence and aggressive work ethic typify Big Apple natives. His photographic career began while majoring in Biology and minoring in Chemistry (with the intent of graduate school and becoming a Field Biologist). While taking these courses, he taught himself photography to improve his photo microscopy. He then began shooting for the school newspaper and yearbook, which exposed him to using the 35mm SLR—and the exhilaration of editorial photography.
The near-constant movement and expedience of sports fascinated Manny and it quickly became an area of expertise for him. Soon, he was working as a freelance sports photographer for the local newspaper, the Staten Island Advance. The goal was to feature sports stories and eventually photograph the area's abundance of professional teams. This drive led to assignments from Sport Magazine, and his becoming a regular at most sports venues in town. Most of all, Manny enjoyed shooting football and hockey.
To further refine his expertise, Manny began working evenings as a darkroom assistant for Geoffrey Clements, the most successful photographer of art in New York. Soon, he was traveling to Manhattan on his two days a week without classes to photograph paintings and sculptures for the leading galleries and museums. Using 4x5 and 8x10 cameras on location was constraining for his "A" personality, but the constant visual bombardment of the highest-quality art provided endless lessons in composition, design, gesture and use of color. Out of a desire to share the wonders of photography, he answered the call of a friend, the Wagner College Art Department Chairman, and spent two years teaching two evening photography courses for ten hours a week.
Relocating to Atlanta in 1972, Manny established himself by becoming the photographer for the soon-to-be-opened Omni. For more than two years, he photographed all the events in the building, and periodically traveled with the Atlanta Hawks and Flames. It was in Atlanta that he opened a commercial studio base, which enabled a broad range of new photographic possibilities that weren't possible with travelling photography work. In 30 years, his editorial style and dedication to quality images permitted traversing the world to produce award-winning advertising campaigns, annual reports, and collateral for powerhouses like Coca Cola, IBM, Hilton, Equifax, Chevron, Sea Pines, Delta, Eastern, McDonalds, Wendy's, Chick-fil-A, Hooter's, Mitre, Ryder, Michelin, 1st Atlanta, C&S and Seaboard Coastline.
The tools of the trade have always fascinated Manny, a favorite being the 35mm camera. He marveled at its ability to capture a small slice of time—see Henri Cartier Bresson's "The Decisive Moment." He sees the camera and lenses as instruments to capture his vision. He is quick to buy and explore the capabilities of each new piece of equipment, yet he is decidedly old-fashioned in his approach to its use. One quirk he has carried over from his early learning days is the imperative that he controls the equipment rather than letting it control him, as he explains, "The first thing I need to know is how to put the camera into manual mode. Auto-exposure, auto-focusing and the associated electronic marvels are distractions from being submersed in creating and capturing the image."
During a nearly 50-year photographic career, Manny has continually challenged himself by working in a wide variety of photographic disciplines, with sports as a perennial favorite. Evidence of this can be found in the more than 500 covers he's shot for an impressive list of clients, including NFL Properties, Sport, Sports Illustrated, Sports Illustrated for Kids, ESPN, ABC, CBS, Newsweek, Time, Sunday New York Times, Inside Sports, Sporting News, Playboy, and most seasonal "one-shots."
After Super Bowl XXX in Phoenix, Manny retired from shooting sports. The desert outside Tucson is home for him and his wife, Beth. Manny has returned to his avocation studying, photographing and writing about nature. Along with dozens of magazine articles and two books on scorpions, Smithsonian Institution published his award-winning coffee table book, "Rattlesnake: Portrait of a Predator." He continues to produce books, allowing even more people to experience his talent for capturing rare moments.