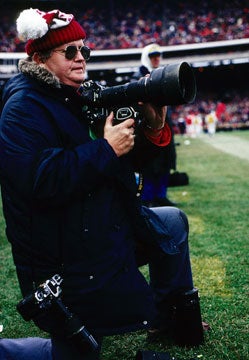 Malcolm Emmons
Malcolm W. Emmons was born in 1935 and grew up in Kennebunk, Maine. During his childhood, he helped his family save the farm in 1947 when there was a series of forest fires in York County that destroyed a total area of 175,000 acres of wooded land. As a young man, he joined the Marine Corp where—after becoming the top of his class—he chose Aerial Photography in the Naval School as his service career. During his time in the Marines, he worked in Japan and Korea. This profession served him for the rest of his life, beginning what would become an illustrious photography career.
Once honorably discharged from the military, Malcolm lived in Washington, D.C., working for News-Clark as an etcher. It was there that he met the love of his life Mary, married her and moved to Columbus, Ohio, to graduate from Ohio State University. While in school, he photographed for the yearbook, "The Makio" and the newspaper, The Lantern. During summer breaks, he worked at North American Aviation in the photo lab. In the winter of 1963, he received his diploma in agriculture.
His first big photo break came via Sport Magazine, featuring a photo spread of Jerry Lucas, center court at St. John Arena. Malcolm started to build his career at the exact time success came to Ohio sports. From Cleveland Browns titles and Cincinnati Royals with Oscar Robertson to Ohio State Buckeyes Men's Basketball National Champions, the demand for his images became a serious business. Regular clients included Sport, Sporting News, Inside Sport, Football Digest, Baseball Illustrated, Dell Sports and Street & Smith. Later in his career, he met David Boss, who pioneered the Creative Services division of NFL Properties and convinced Malcolm to become a regular contributor.
In 1968, Malcolm won first place honors for the first ever photo contest at the Pro Football Hall of Fame. He repeated the feat in 1971 and 1974. Other notable projects were co-producing The Battling Buckeyes Book; working with Marketcom to produce Sports Illustrated posters; and having one of his images of Jerry West used by an artist to produce the NBA logo.
Malcolm mainly worked freelance, believing that owning his images was extremely valuable, more so than contracts. The rare contracts he did take he negotiated to keep a portion of the game take. During this time, Malcolm also took on a fulltime photography job at The Ohio State University's Extension Service, illustrating his strong work ethic that began so many years ago on his family's farm.
Malcolm has two sons, Malcolm Jr. and Matthew, residing in Delaware, Ohio. He enjoyed being a historian of military conflicts, and often took the family to Civil War battlefields for summer vacations. It was this common interest in military strategy that sparked a great friendship with Ohio State football coach Woody Hayes. Their offices were not far apart on campus, so the two frequently enjoyed brown bag lunches together during the off-season. Though they worked with the sport of football, it was rarely discussed; instead, the conversation was all about military strategy in battles of the past.
The Sporting News editor Lowell Reidenbaugh had a great working relationship with Malcolm and relied on his ability to capture the essence of a sporting event. This combination produced more than 300 Sporting News covers for Malcolm during his career. Malcolm was among a coveted few that covered all Super Bowls through XXIII, after which he passed in the summer of 1989 at the age of 54.