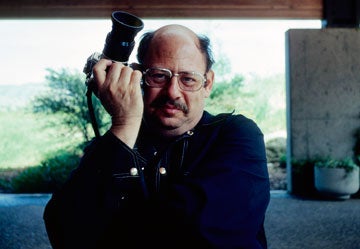 Herb Weitman
Herb's professional sports photojournalism career began in 1960 when he became the official photographer of the St. Louis Football Cardinals, at the time the team moved from Chicago to St. Louis. He held this position until 1987, when the team moved to Arizona. During his tenure with the Cardinals, he also served as an official photographer for the NFL, including annual coverage of Super Bowls V to XXVIII.
Furthermore, Herb headed the photographic services at Washington University (St. Louis) for nearly five decades, becoming one of the most-honored photographers among universities in the country. He also served as the associate editor of the award-winning Washington University Magazine and founded the School of Fine Arts' (now School of Art) photography program in 1967.
In addition to his pictures in the Washington University Magazine over several decades, he concurrently contributed to the St. Louis Post Dispatch Sunday Magazine and the St. Louis Globe-Democrat, as well as to national publications, including Newsweek, Time, Life, Sports Illustrated, Picture Magazine and CASE Currents.
Herb's images can also be found at the two largest museums in St. Louis that have acquired his photographic work, including four prints by the St. Louis Art Museum and other museums around the country. M. Fredric Volkman, the vice chancellor for public affairs at Washington University, summed up Herb's career well in saying, "Herb Weitman is the dean of university photographers in America. Better than anyone else, he epitomizes the importance of capturing the myriad aspects of campus life on film and slides. His imprint on photography at hundreds of campuses is unmatched and has set the standard for excellence in collegiate photography across the nation."
In addition to his many awards and accolades, Herb was honored for his service to the Washington University School of Art by having the photography gallery at the school's Lewis Center named The Weitman Gallery of Photography in September of 2008.
Herb's collection of St. Louis Cardinals Football is iconic—his documentation of Cardinals football set a benchmark for team photography and his influence on young photographers will remain with them forever.
He passed away Jan 12, 2016.