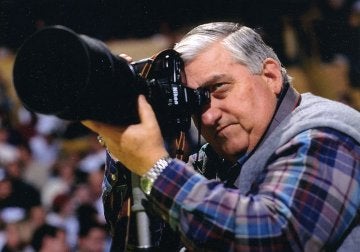 Dick Raphael
The Basketball Hall of Fame refers to Dick Raphael as "the dean of Boston sports photographers, and one of the premier sports photographers in the United States" – an apt description, as Dick is a true legend in the industry.
Dick's career can be traced back to his childhood in Marblehead, MA. His father taught him his photography hobby, and even had a darkroom built in their basement. Dick recalled his father as the instigator of what would become his lifelong career and passion:
"He was more than a father, he was a mentor and a friend," Raphael once told the Boston Globe during an interview. "I'm doing what I'm doing— and loving it—because of him. He got me started, and I've been at it since."
In the 1950's, Dick started taking pictures of the sailboats in Marblehead Harbor. His first professional publication came while he was in eighth grade, when he shot a photo with his Brownie Hawkeye at the Marblehead Race Week that appeared in the Marblehead Messenger. Dick later attended the University of Maine and Boston University, at the time when a new football team was created in Massachusetts: the Boston Patriots. He was the editor of the BU News then, and to get a pass for the first game in 1960, he simply walked into the Patriots office and asked. He covered every game after that for 40 years.
In 1967, the Celtics, Bruins and Red Sox were all in the playoffs, and Dick began contributing to Sports Illustrated, where he accrued nine covers over his career. He submitted photos to many national publications, such as Life, Time, Newsweek, Sporting News and Look, all the while continuing to send out to local and national newspapers, which he continued for over 30 years. His pictures appeared frequently in the Boston Globe, where his longtime friend and colleague, Will McDonough, was a sports reporter and columnist.
"You can't exaggerate his status as a world-class photographer," said Bob Ryan, also a Globe sports columnist who collaborated with Mr. Raphael on a book about the Celtics. "The photographer's collection of prints and negatives has got to be the most valuable treasure trove of Boston sports photos ever taken."
Raphael had quickly become one of the most recognizable names in sports photography, as well as one of the most reliable sources for Boston sports images. He served as the official photographer of the Boston Celtics from 1965-1999 and The Boston/New England Patriots from 1968-1979. He also worked for the American League of MLB from 1968-1972, then for MLB from 1972-1979.
Dick had the best seat in the Boston Garden; it was there he photographed Bill Russell and Wilt Chamberlain, the centers whose rivalry in the NBA became legendary. Dick quickly saw that "these men were giants in a very literal sense," and his iconic photo of Celtic great Russell deflecting a shot by Chamberlain was a personal favorite.
In 1966, he began to contribute to NFL Properties Creative Services division as a new AFL-NFL Championship Game was to be held in Los Angeles. There was a need for pictures for a new game program, and he wanted to go to the new championship game, but did not know how to get in. Capitalizing on the professional connections he had at the Patriots, he secured a pass through the NFL office. Since he had the old AFL photos, it was a perfect connection that continued for 40 years. Thanks to his talent and drive, he went on to win the Pro Football Hall of Fame photo contest for the Sports Color Action category twice, in 1971 and 1974. His legacy is honored at the Basketball Hall of Fame in Springfield, MA, with a display about the former Celtics legendary photographer.
Dick's talent went beyond marquee sports, however; he also photographed other sports, including lacrosse, field hockey, rugby, crew, soccer, ping-pong, squash, indoor-outdoor track, sailing, and golf, to name a few. With every game, he learned more about the art of sports photography. It was his constant desire to learn that made him the legend he is, as he explains, "To get great photographs, a photographer must be a student of sports to develop a sense of where to stand at the key moment to get the money shot."
Dick captured the entire professional lives of many Boston sports legends, from the moment they stepped onto a basketball court, football field, baseball diamond, or hockey rink, until their numbers were retired. He was one of five living legends to photograph every Super Bowl until February 2007, when he passed away shortly after Super Bowl XLI.