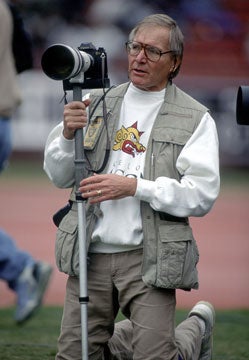 David Boss
Growing up in West Texas, football was always big part of David's life. He saw his first NFL game as the Rams took on the Cardinals at the Coliseum in 1947, and while attending the Cleveland Art Institute, he regularly went to Browns games in the early 1950s. He became a self-taught photographer, and his art background gave him the "the eye" for design. In 1951, he moved to Los Angeles to start his own design company, which landed him a job with the Rams as their designer. 1954 was the year he began photographing the Pro Bowl, and he continued to photograph every game until he retired. His design savvy inspired him to eventually publish a book called "The Eclectic Eye," depicting his stunning photography body of work.
David began his 38-year career in the NFL in 1958, when Pete Rozelle brought him onboard to work on the Rams' game program. Seeing David's talent, Pete eventually had him on the field taking photos of the games, including all of the 25 Super Bowls that had taken place at that time. He joined the NFL Properties as a consultant in 1963 and became its fourth employee in 1965, escalating to Corporate Vice President and Creative Director for NFL Properties for the next 26 years. David's creative eye led him to paint the first set of NFL team paintings in 1965, which were later reproduced as the first set of posters for the NFL. He was also responsible for commissioning the Super Bowl art from Super Bowl I to XXV, as well as all the Super Bowl game programs. David's appreciation for comic book art served as inspiration to his artistic endeavors with the NFL.
David's legacy with the NFL is exemplified by his enshrinement into the Pro Football Hall of Fame in 1992 when he was presented with the Daniel F. Reeves Pioneer Award. The award states that "Dave Boss Established and Developed NFL Creative Services an Image-Enhancing Concept New to Professional Sports" – he is one of only a few who were not players or coaches to be so honored.
In 1998, the Pro Football Hall of Fame again honored David when they renamed the winning entry in the annual photo contest "The Dave Boss Award of Excellence." The award carries a high prestige, as David left an expansive professional photo archive documenting his life's work with the NFL. His photographs have appeared in hundreds of magazines, and other NFL publications such as Game Day Magazine, PRO Magazine and Super Bowl and Pro Bowl programs.
More than any other person, David has been responsible for the transformation of sports graphics – he was an illustrator, artist, creative director, photographer and mentor to many. His legacy of excellence has had a tremendous influence on the graphic design standards and promotion of all sports, both amateur and professional. Among the books he conceived, contributed to and produced were: "The First 50 Years," "A History of Professional Football," "The Pro Football Experience," "A Game of Passion," "Great Ones," "NFL Quarterbacks from Baugh to Montana," "The NFL Experience," and "More Than A Game." In his spare time, he conceived, edited and produced "A Treasury of American Wines," another subject on which he was an authority, and was project director for "Conquest, A Cavalcade of USC Football."
David Boss was well-known among sports photographers everywhere as a patron, colleague, friend and mentor. His legacy and influence will forever live in the hearts and minds of those he so touched.
Davis Boss passed away January 8, 1999.