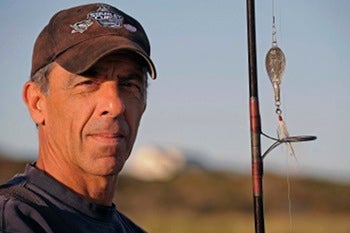 Lou Capozzola
Lou was born and raised in the Bronx, New York. He participated in sports from early in his youth to his very last day of life. From stickball in the street to softball in the schoolyard, he excelled thanks to his athletic ability and competitive spirit. He could do a pop-up slide on asphalt, and in street football games, a button-hook at the Buick. He went on to play baseball and football in high school, and even during the summer breaks, he played as many as 60 baseball games in the sandlot leagues; some on fields bordering Yankee Stadium, an experience he described by saying: "That was really cool." In college, he was a capable running back at Fordham University, earning the All City Football Player Award. In his junior year, though, injuries forced him to stop playing and stow the cleats indefinitely. That is when he picked up a camera.
Influences such as Henri Cartier Bresson ("The Decisive Moment"), Ernst Hass (Color), and Robert Frank (People) stirred his artistic spirit. He bought a Leica and roamed the streets of New York that had once been the gridirons of his youth. Upon graduation from college, his job as an assistant to an advertising photographer provided a rich education for the young photographer. He learned to print, to light studio, and do location shoots.
As an athlete, Lou had dreamt of a career in sports, and that's just what he got when, in 1980, he was hired by Sports Illustrated as an assistant photographer. In this role, he would travel across North America, Europe, and Asia, a half-ton of lighting and photo equipment in tow to light arenas, domes and other venues for Sports Illustrated photographers. It was the ideal continuation of an education developed over the years, as Lou put to use some early advice: " One of my first jobs was at Indiana University in Bloomington, Indiana. The building manager, Clete Elliot, gave me some good advice. He said, 'Lou, you're a young guy just starting out. Here is a little piece of advice: never walk in to another man's barn and tell him how to stack his hay.' That has stayed with me to this day. Have respect for the venue and the people who work there."
Lou worked with a wide variety of Sports Illustrated photographers and events, including boxing; hockey; basketball; track and field; football; baseball; Olympics games; and feature stories. Other assignments developed from that experience, as Lou went on to shoot for the NBA, the Upper Deck Company, and Getty, to name a few. He enjoyed the adventurous nature of sports media; he thrived on the thrill of the unexpected, the moment's notice of the big moments—
"For the Magazine, my main beat is hockey, which is a joy for me. It's an unusual life, never knowing where you are going to be on assignment from one week to the next. A telling story: one particular week, all my assignments were set. I was free the Friday, Saturday, and Sunday of Columbus Day weekend. Being an avid surfcaster, and with the fall run of striped bass and bluefish underway, I was fishing at Montauk. Fished Friday and had a banner day. Called my wife from a phone booth (this is before cell phones) in Montauk, standing in my waders. She said call the office. I called and they said, 'We need you in Barcelona tomorrow for the World Basketball Championships. We are doing a story on the Lithuanian team. So get your half-ton of lighting gear and cameras and go light it and shoot it. I did, we do, just do it.'"
In response to a 2010 sports photographer feature by Sports Illustrated, Lou summed up his life and career in saying, "What a long strange trip it's been…I want to thank my family, my wife Pam, son Taj and daughter Eva for their support and understanding for a career in sports photojournalism."
The next year, Lou passed away on August 18 at the age of 61. However, his legacy persists through his family, colleagues, and an incredible collection of images.