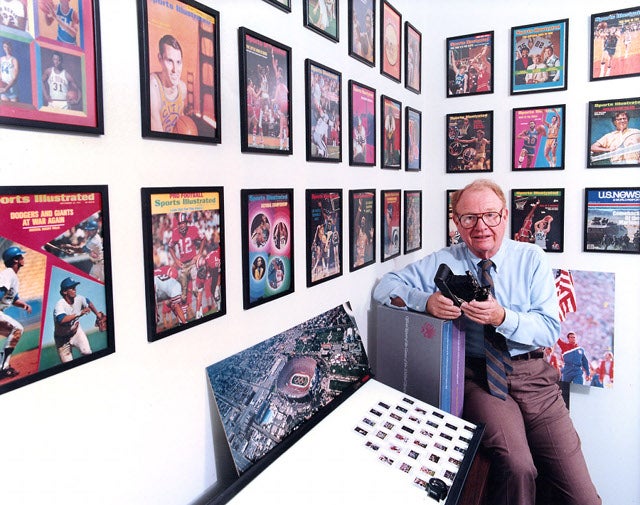 George Long
George Long's photographic career began when he was attending Bechtel High School in Akron, Ohio. "The school was so crowded that we only had half-day classes;" says George with a grin, "the other half day I worked as an apprentice in a photographic studio, owned by a friend of my family. It was a great place to learn, and I developed a huge love for photography. I sold my first sports picture of Sam Snead coming out of a sand trap for $3.00 in 1939, and from then on was hooked."
In 1942, he became one of the only six paparazzi in Hollywood standing outside the Macombo and Ciros night clubs photographing such stars as Betty Grable, Clark Gable, Claudette Colbert and Ronald Coleman for Hollywood fan magazines and Look, Saturday Evening Post and Life.
He made his first big impression by standing on a chair in a Los Angeles courtroom to photograph gangster Mickey Cohen over the heads of all the other photographers, and was only saved from going to jail on a contempt charge when he apologized to the judge. George's gumption paid off, however—his pictures of Cohen made the front page of newspapers across the country. Of course, there were less-than-stellar moments, as he still remembers with horror failing to get usable shots of Humphrey Bogart's funeral at Hollywood Presbyterian church due to a mishap in developing the film.
By the early 1950s, George's pictures were appearing regularly in newspapers and iconic magazines such as Time, Life, Look and, his favorite, Sports Illustrated (SI). SI was launched in August of 1954, and it became readily apparent that SI and George were made for each other. Every week, he was turning in amazing photos of star athletes like Sandy Koufax, Don Drysdale, Wilt Chamberlain, Elgin Baylor, Bill Russell, Merlin Olsen, John Brodie, Johnny Longden and Peggy Fleming. He even captured rare moments as Frank Sinatra throwing out the first pitch at a Dodger game, and Bob Hope and Dean Martin hitting tee shots.
In 1959, UPI sent George to Carmel, CA, to shoot what was to be the beginning of a 25-year love affair, the Bing Crosby Celebrity Golf Clambake ("the Crosby") at Pebble Beach. His celebrity photography continued, and to date, he has photographed 49 Academy Awards shows and eight Presidents, including 'Ike' Eisenhower, John Kennedy, Lyndon Johnson, Richard Nixon, Gerald Ford, Ronald Reagan, Bill Clinton and George W. Bush. George won't reveal his least favorite, but he adores telling stories of filming Ronald Reagan at both the White House in Washington, D.C., and at Reagan's California ranch just outside Santa Barbara.
When he's not on the road shooting, George lives in Truckee, CA, near Lake Tahoe. He has recently handed control of LPI in Los Angeles over to his two sons, Bob and Tim. Even so, he still ventures out for big events, like his favorite, the Annual Pasadena Rose Parade and Rose Bowl game.